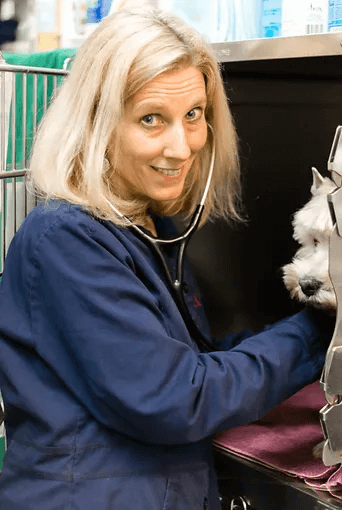 Main St. Veterinary Hospital (MSVH) was founded in 1997 by Dr. Kerry Shafer-Ray. Originally located on Main Street, about 1 mile south of our current location. MSVH was founded to be a modern full-service veterinary clinic serving dogs, cats, and other small animal pets. We believe that pets are family members. Our mission statement is:​
1. To assist our clients in bettering the health and longevity of their pets.​
2. To provide or find appropriate treatment for the medical needs of our patients.
3. To create a comfortable atmosphere for our patients and clients.​
4. To never lose sight of the veterinary oath.*
We have grown significantly from our early days when we published a monthly newsletter and mailed them to all our clients. Today, though our equipment is more advanced and our records are no longer kept in manila files, we retain the same friendly atmosphere where patient care and concern is paramount.
The Veterinary Oath
Being admitted to the profession of veterinary medicine, I solemnly swear to use my scientific knowledge and skills for the benefit of society through the protection of animal health and welfare, the prevention and relief of animal suffering, the conservation of animal resources, the promotion of public health, and the advancement of medical knowledge.
I will practice my profession conscientiously, with dignity, and in keeping with the principles of veterinary medical ethics.
I accept as a lifelong obligation the continual improvement of my professional knowledge and competence.
An Educated Staff
To ensure that your pet is getting the best medical attention possible, MSVH is staffed with veterinary assistants and nationally certified Registered Veterinary Technicians (RVT's). RVT's are required to earn a college degree in a vet tech program in addition to earning satisfactory scores on the National Veterinary Technician Exam and the State Veterinary Technician Exam. Technicians are also required to complete a number of continuing education hours every year to maintain licensure.